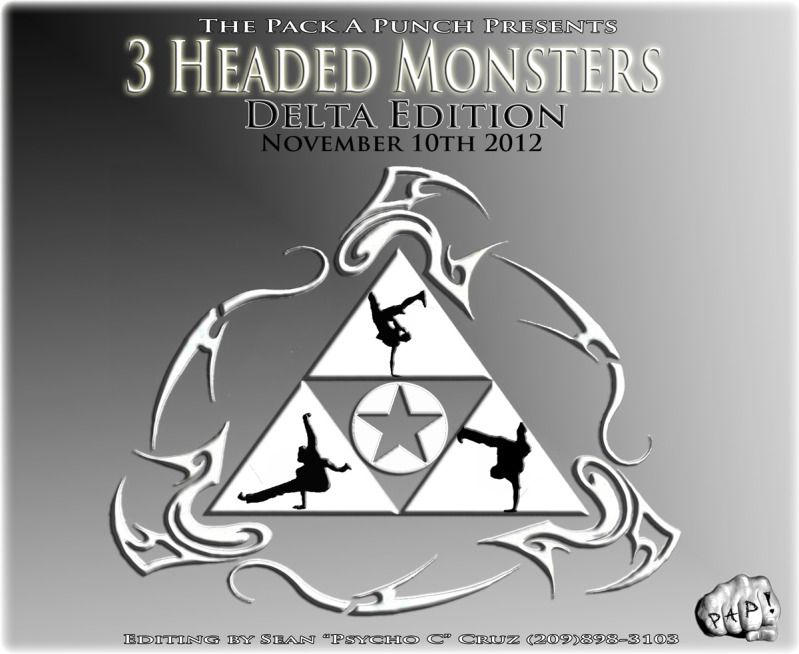 The Pack a Punch is doin it again..
3 HEADED MONSTERS BABY!!
(DELTA EDITION)
November 10th 2012
3vs3 B-boy battle
1vs1 All styles
$500+ TROPHY for the BBOY CHAMPS!
$150 for 2nd place
$150 for the all Styles champ
Admission: Only $8 before 4. $10 after. Be sure to come early
and save some bread!
Location
725 N. El Dorado St.
Stockton, CA
DJ's
Oscar (H.I.T. SQUAD/E.S.K)
TBA
JUDGES
BBOY BRACKET:
DONOVAN (ROCKFORCE/HOUSE OF REPS)
CONFLICT (FALLEN KINGS)
SHYNE (FLEX FLAV)
ALL STYLES BRACKET:
TBA
TBA
TBA
Updates will be posted ASAP.
Any questions about vending, sponsorship, or interest for judging/DJing please contact Sean at (209)898-3103 or message me on FB.
Be ready folks.. Lets do it big one time for the VALLEY BABY!!
God bless